About the Project
THE NEED
There's nothing like an inspiring story to encourage future customers to take action.
Myrna Nickelson, Head of Marketing for LifeGlider, knew that for many, it's the real stories about how others are using this fall-safe, hands-optional upright walker that help them fully understand why it's worth a try.
LifeGlider had an active user group on Facebook where many were eager to share their stories. All Myrna needed was the support of an experienced storyteller who knew how to capture these stories and present them to target audiences.
THE APPROACH
To emphasize the personality of each storyteller, we decided to tell stories in the first person. From the interview to writing and editing, I worked closely with each participant to ensure their story was accurate and written in their voice.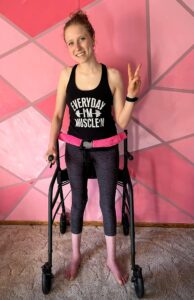 Our goal was to demonstrate the diversity of LifeGlider users. We captured stories that ranged from people in later life to young adults (and even one child story) who struggled to walk independently for a variety of reasons.
Kelly's story was about her battle with Freidrich ataxia. This is one of several rare diseases LifeGlider users suffer from that affect gait, balance, and coordination. The fall-safe LifeGlider helps her maintain as much mobility as possible.
THE RESULTS
These stories are now powerful content assets for LifeGlider's social media channels and for the Customer Stories section of the website. At a glance, this page presents a broad overview of the diversity of LifeGlider users.
The stories have had the greatest impact when shared by the participants themselves. As product ambassadors, they proudly share the links on their own social media platforms. Their influence has encouraged many to try the product.
Each story is a uniquely inspirational example of what people mean when they call the LifeGlider "life-changing."
"Our customer stories are important to our marketing strategy. They're extended testimonials that speak to how the LifeGlider is changing their lives. Beyond using them on the website to improve SEO, we also use them for email marketing and social media posts.

"Matt does a great job interviewing the customers and effectively ghostwriting for them. Each story is unique and conveys the customer's voice. He's an excellent writer and a joy to work with." – Myrna Nickelsen, Head of Marketing
Click the logo to read the story at MyLifeGlider.com.